Zucchini and Sun-dried Tomato Frittata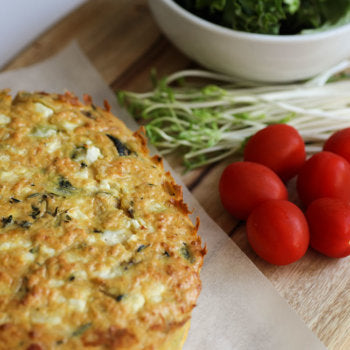 This delicious Italian frittata recipe is high in protein and pops with flavour. Great for breakfast lunch or dinner and keeps for days.
Ingredients
3 medium zucchini
1 medium red onion
6 eggs
¼ cup Just Natural Clean Lean Protein
¼ cup plain yoghurt
¼ cup grated parmesan cheese
¼ cup crumbled feta
1 tbsp fresh thyme
4 - 5 large sun-dried tomatoes sliced into small pieces
Salt and pepper
Olive oil cooking spray
Method
Preheat oven to 200°C (180°C fan forced)
Chop zucchini and onion into medium sized pieces and place onto a lightly sprayed baking dish.  Sprinkle with a little salt and pepper, spray with a little more cooking spray and toss until evenly coated.
Place in the oven for 30 mins, stirring halfway through to ensure even cooking.  Once cooked, remove from the oven and place in a separate bowl to cool.
In a large bowl, add eggs, protein and yoghurt and whisk together.  Add half the feta and half the parmesan cheeses, sun-dried tomatoes, thyme and a pinch of salt and pepper.  Stir to combine.
Lightly grease a medium baking dish with cooking spray and line with baking paper.  Add zucchini and onion and pour over egg mixture.  Top with remaining feta and parmesan.
Bake for 30-35 mins or until top is golden.  Allow to cool for 5-10 mins before serving.