Green Goodness Quinoa Salad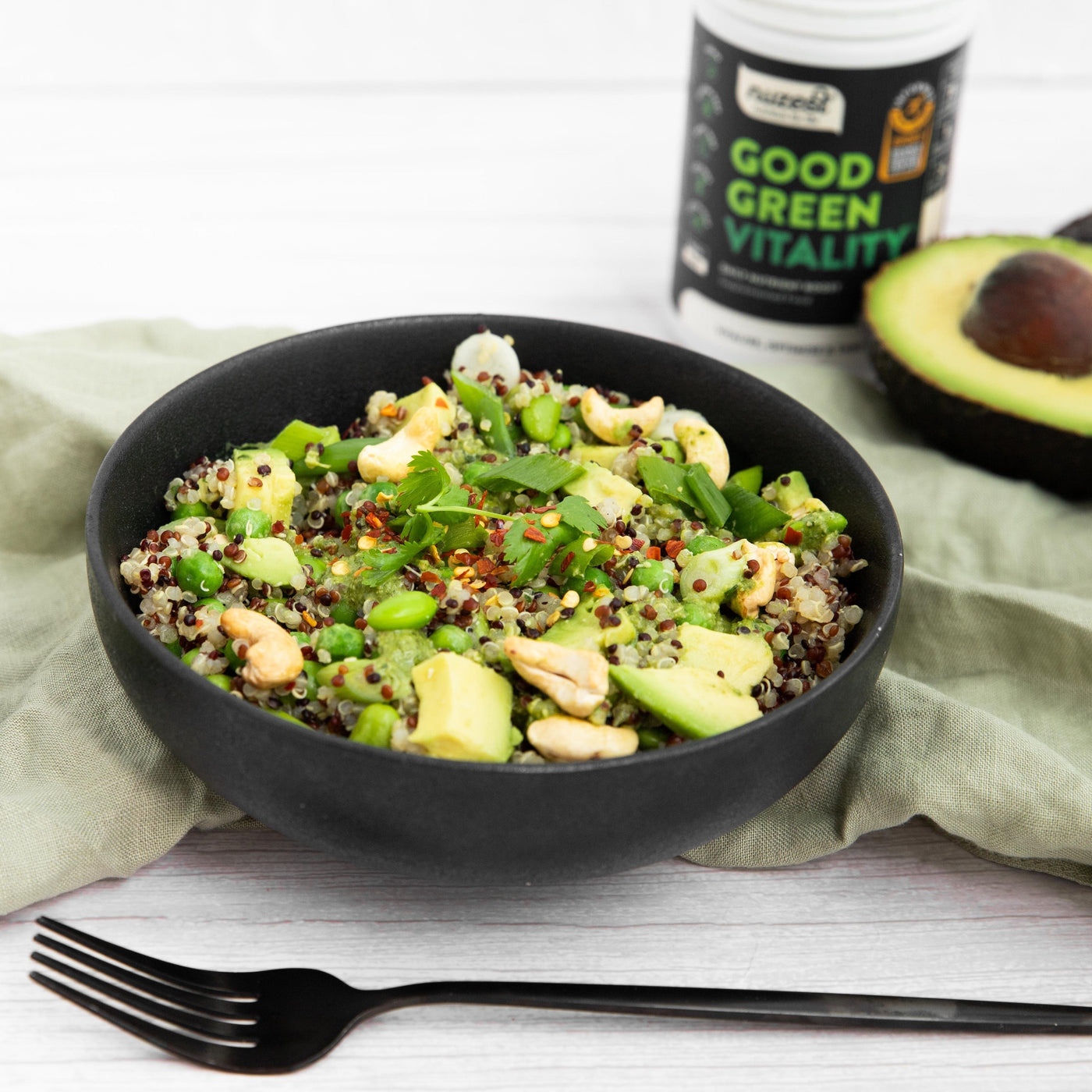 A super green salad with a super green(s) dressing! Who would have thought a salad could get any healthier... add extra nutritional value to your salad with Good Green Vitality. A great lunch or dinner option on a hot summer's day!  
INGREDIENTS
Salad
1 cup quinoa
2 cups vegetable stock
1/3 cup edamame beans
1/3 cup green peas
1 avocado, diced
1/4 cup coriander
2 spring onions, finely chopped
3 tbsp roasted cashews, to top
Chilli flakes to top
Dressing
¼ cup coriander
¼ cup parsley
1/2 cup spinach
1 clove of Garlic
1 lemon, juice and zest
3 Tbsp olive oil
1 tbsp Good Green Vitality
3 tbsp cashews
1/2 tsp salt
1 tbsp white wine vinegar
Method
Rinse quinoa and place in a small saucepan. 

Cover with 2 cups of vegetable stock, bring to a boil, then reduce to a simmer and cover with a lid. 

Cook until all liquid is absorbed, about 8-10 minutes. 

Take off heat and allow to cool for 5 minutes. 

Meanwhile, make the green goddess dressing by placing all ingredients into a blender. 

Blend until smooth.

Combine salad by tossing together cooked quinoa, edamame beans, peas, avocado, coriander and spring onion. 

Top with roasted cashews, chilli flakes and salad dressing.
PRODUCTS USED IN THIS RECIPE :