Lemon Blueberry Muffins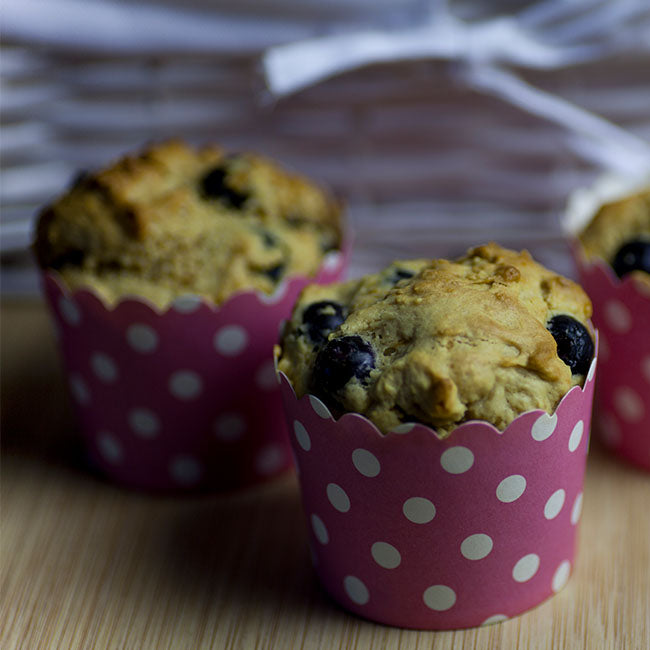 Lemon blueberry muffins with a sour-sweet glaze and hint of vanilla. Perfect any time of day. Make sure you try one fresh out of the oven while theyÕre still warm!
Ingredients
1¾ cups self raising flour
1 tsp baking powder
1 scoop Just Natural Clean Lean Protein
¼ cup coconut sugar
Pinch of salt
75g butter, melted
1 cup milk
1 egg
Zest of 1 lemon
1 punnet blueberries
½ tsp vanilla powder or extract
Method
Preheat oven to 200°C
In a large bowl add flour, baking powder, protein, sugar and salt and mix to combine.
In separate bowl stir melted butter, milk, egg, vanilla and lemon rind until combined.
In a third bowl add blueberries and stir through 1 tbsp of the dry mixture (this will help the blueberries to distribute evenly throughout the muffins and prevent them from sinking to the bottom)
Add wet ingredients to dry ingredients and mix together until just combined (do not over mix).  Then add blueberries and very gently fold until blueberries are evenly incorporated, being careful not to burst the berries.
Line a 12 cup muffin tin with muffin papers and spray with vegetable oil.  Scoop batter in each cup - an ice-cream scoop is a great tool here and makes perfect sized muffins.
Bake for 10-15 mins or until golden and toothpick comes out clean.
Optional Topping:  Mix lemon juice and sugar and pour over muffins while still hot.