Easy No-Bake Muesli Bars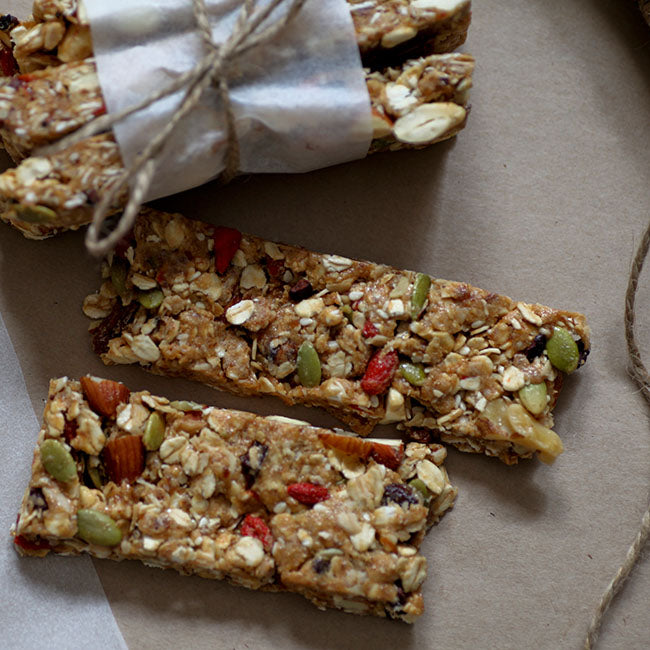 This wholesome muesli bar recipe is packed with seeds, fruit, fibre and goodness - guaranteed to fuel your body. And itÕs so simple to make and versatile.
Ingredients
1 cup pitted dates
¼ cup honey
¼ cup smooth nut butter
1 cup mix of your favourite nuts, seeds, and/or dried fruit
1¼ cups rolled oats
1 tbsp coconut oil, melted
Pinch salt
1 serve Just Natural Clean Lean Protein
Method
Add dates to a blender or processor and blend until they form a dough-like consistency. Dates should roll into a ball at this stage.
Add processed dates to a bowl, and stir in oats, Clean Lean Protein, fruit/nut/seed mix, and salt.
Add honey, nut butter, and coconut oil to a small saucepan and heat on low until mixture is just warmed through.
Pour liquid mixture over oat mixture and mix thoroughly, breaking up the date dough as you go to ensure even distribution. Use your hands to make it easier.
Once everything is thoroughly mixed, transfer to a small lined baking tray and press mixture down firmly into a thin, even layer.
Cover with cling wrap and place in the fridge or freezer to harden for 30-60 minutes .
Once set, remove mixture from tray and chop into even sized bars.
Store in an airtight container in the refrigerator for up to 7 days, or freeze for up to 3 months.
Optional Step:  If you prefer the taste of toasted muesli, toast your oats, nuts and seeds (do not add fruit here) in a preheated 160°C oven for about 10 minutes, turning halfway through or until slightly golden.