EASY POKE BOWL WITH SPICY AIOLI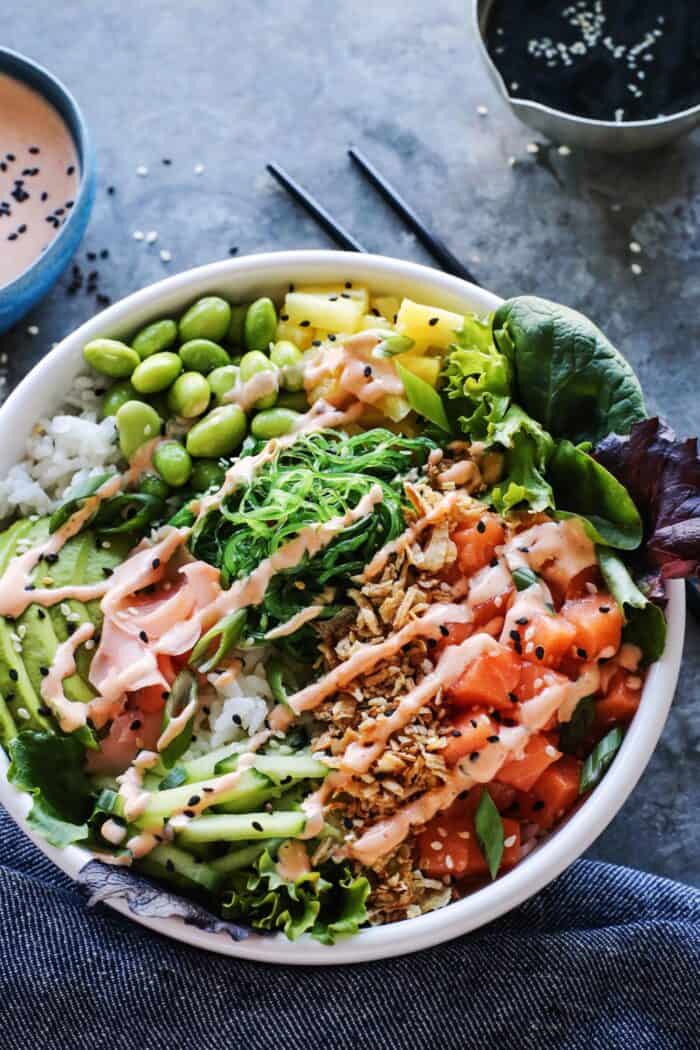 Time: 35min  Serves: 4
This fresh and easy poke bowl is a quick whip up the whole family will enjoy. The ingredients are optional, choose your favourite toppings and make it your own!
Ingredients:
2 cups of Sushi rice, can be swapped for brown rice
2 cups of fresh mixed leafy greens
350 g of sushi-grade salmon (also called sashimi-grade) cut into cubes
½ Cucumber cut into strips
Seaweed salad
Shelled edamame
1 cup of fresh Pineapple in cubes
¼ cup Pickled ginger
1 Avocado sliced
½ cup Fried shallots
1 tsp Black and/or white sesame seeds
½ cup of Spring onion cut thinly
Spicy Aioli:
¼ cup Mayonnaise
1 tsp Sriracha
Sesame Vinaigrette:
2tsp of soy sauce
2 tsp of rice vinegar
2 tsp of olive oil
1 tsp of sesame oil
Drizzle of honey to taste
1 tsp of Freshly squeezed lime juice 
Method:
Boil the rice.
Make the vinaigrette. Place soy sauce, rice vinegar, olive oil, sesame oil, honey, and lime juice in a container with a tight-fitting lid. With lid on, shake vigorously to combine. Place in refrigerator until ready to serve. Shake vigorously before using.

Prepare the aioli. 

Whisk together mayonnaise and Sriracha. Refrigerate in a covered container until ready to serve.
Divide fresh greens amongst four large individual bowls. Then divide and layer in the warm rice, followed by cucumber, seaweed salad, edamame, pineapple, pickled ginger, avocado, salmon, fried onion, sesame seeds, and green onion. Top with sesame vinaigrette and spicy aioli. Of course, all of these items are optional and you can choose whatever you like, or let your guests do their own bowls at the table!
Enjoy!